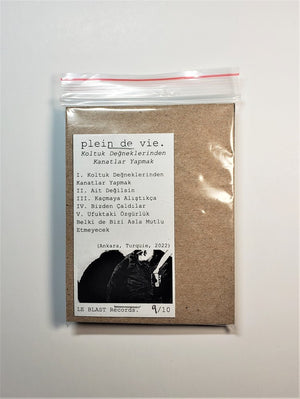 PLEIN DE VIE. - Koltuk Değneklerinden Kanatlar Yapmak (cassette)
For fans of: They Sleep We Live and Yearning.
Violent and awesome screamo/emo-violence. "Making Wings from Crutches" consists of 5 songs written about belonging, defeat and a contradictory hope that is not lost despite everything. Released by Le Blast. ONLY 1 COPY IN STOCK!!!
Painted tape in a resealable plastic sleeve. #/10. 5 songs.
Listen here:
https://mevzurecords.bandcamp.com/album/koltuk-de-neklerinden-kanatlar-yapmak-mr101