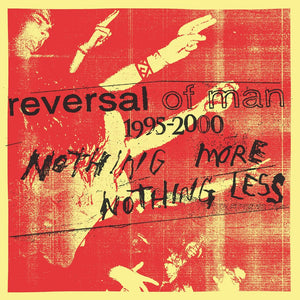 REVERSAL OF MAN - Nothing More Nothing Less (3x12")
REVERSAL OF MAN 'Nothing More Nothing Less' 3XLP Full Discography
Repeater Records – REP007
Packaged in a full color triple gatefold with a 44-page booklet with original art and photos from the beginning to the end and a digital download.
300 – Yellow vinyl with red splatter
700 – Yellow, Black, Red vinyl THIS!!! LAST COPY!!!!!!!!!!!!!
57 tracks remastered by Jack Shirley
Cover art by Steak MTN
Twenty years after their final release, Florida's hardcore trailblazers Reversal of Man finally get the vinyl discography treatment courtesy of Repeater Records. Between 1995 and 2000, the band released a full length LP, three split LPs, a 10", various split 7"s and compilation tracks, all collected here along with the demo that kicked off their brief but influential time together. A fitting tribute to the long shadow they have cast, this triple LP comes wrapped in a gatefold sleeve with a massive booklet gathering all record art plus various flyers and photos from the beginning of the band through to the end.