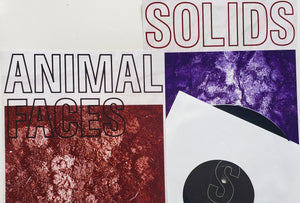 ANIMAL FACES + SOLIDS - Split (7")
This ANIMAL FACES split shows this Toronto trio leaning even more towards post-hardcore/shoegaze but still retaining a driving, post-hardcore feel. SOLIDS are from Quebec and bring even noisier rock to the table.
For fans of:
12 Hour Turn, Lautrec and Itto.
2 tracks by Animal Faces and 1 by Solids.
Jam the AF side here:
https://animalfaces.bandcamp.com/album/animal-faces-solids-split