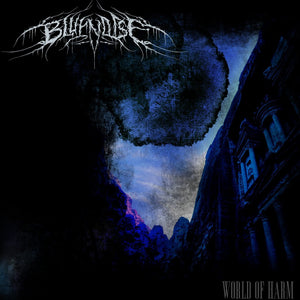 Blue Noise - World of Harm (cassette)
BLUE NOISE - WORLD OF HARM (CASSETTELP)
BLUE NOISE - World of Harm (cassetteLP) (ZBR201)
For fans of: Hope Drone, Serpent Column, Deafheaven and An Autumn Of Crippled Children.
Keeping in line with releasing literally everything this Ann Arbor solo project has to offer, we proudly present BLUE NOISE's second full length 'World of Harm' on cassette. Dark, atmospheric and evil as fuck, the swelling post-hardcore/screamo/black-metal covers a ton of ground over the nine tracks, including gorgeous grooves on "What a Shame", drone/noise on "Before God/World of Love", math skills on "Thanks for Trying/World of Harm", gargantuan climaxes on "Liturgy" and nearly everything in-between. Maya has also played in: Youth Novel, Monster Bad, Serpent Column, Z.O.N.E, , Bonzo, Johanna B, Death Flags, Vampires, Bonglord, The Virgin Spring, THECHEESEBURGERPICNIC, silt bed, autoeroticcannibalism, Goodthink, Vomit King, Prevenge, Girl Genes and Cheeseburger Picnic.
73 cassettes, 25 on dark blue, 26 on pink swirl, 8 on dark swirl, 5 on clear, 4 on purple/copper and 5 test dips, all w/jcard and download code.
Listen here:
https://zegemabeachrecords.bandcamp.com/album/world-of-harm