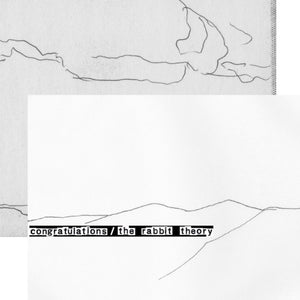 Congratulations / The Rabbit Theory - Split (7")
CONGRATULATIONS / THE RABBIT THEORY - SPLIT (7")
(ZBR107) - Congratulations / The Rabbit Theory - Split
For fans of: Life In Vacuum, September, Wolves and AttackRobotAttack.
A split of two defunct bands, Canada's CONGRATULATIONS and Switzerland's THE RABBIT THEORY. The former drop their final, dark and atmospheric post-rock/screamo while the latter dish out a huge, sprawling and danceable rock/post-hardcore instrumental jam. Released in conjunction with Germany's Time As A Color.
7" vinyl on black limited to 200 total. 1 song by each band.
Listen here:
https://zegemabeachrecords.bandcamp.com/album/congratulations-the-rabbit-theory-split