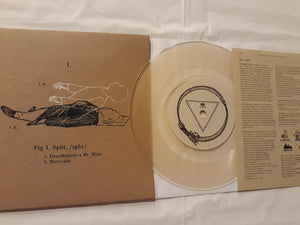 DESCUBRIENDO A MR. MIME / HURRICÄDE - Split (7"EP)
DESCUBRIENDO A MR. MIME / HURRICÄDE - Split 7"EP
For fans of: Cease Upon The Capitol, Vi Som Alskade Varandra Sa Mycket, We Had A Deal and The Fall Of Troy.
Spanish screamo band DESCUBRIENDO A MR. MIME drops two awesome tracks in between the harshness of their old material and textured epicness of the new. HURRICÄDE also have two songs here, and both are awesome post-hardcore/screamo jams. Released by Dingleberry Records.
Cream 7" vinyl. 1 track by each band.
Listen here:
https://dogknightsproductions.bandcamp.com/album/dk065-hurric-de-descubriendo-a-mr-mime-split-7-ep