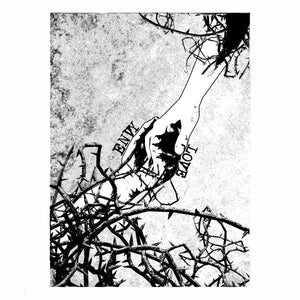 Envy/Love - Tribute Compilation (12")
ENVY/LOVE - TRIBUTE COMPILATION
(ZBR137) - ENVY/LOVE - Tribute compilation 
Featuring previously unreleased tracks from: Apostles Of Eris, Beast Jesus, Carcajou, Crowning, Gillian Carter, LKTDOV, Massa Nera, Niboowin, Respire and Shizune.
Released November 2018. Ships January 2019.
Zegema Beach's tribute baby, each band was hand-picked to participate in this Envy covers 12" compilation. Almost a year and a half in the making, this 10-track homage to the great Japan's greatest post-hardcore/screamo band, with a ridiculously influential catalogue spanning over two decades. Each band provides a cover that both stays true to the original but is also rooted in the band's sound, instead of being an Envy clone. This is a Zegema Beach Release on 300 black 12"s with black jackets/white stamps, hand-numbered black inner sleeves, an insert with each band explaining how Envy influenced them and a download code. Art by none other than Connie Sgarbossa of SeeYouSpaceCowboy. Pre-order comes with limited Zampler #12 cd compilation.
12" black vinyl/300 with insert. Download code included.
Listen here:
https://zegemabeachrecords.bandcamp.com/album/envy-love