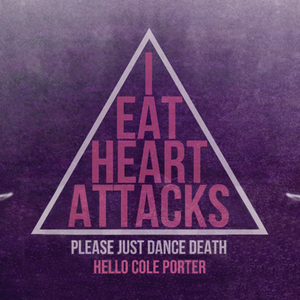 IEATHEARTATTACKS - Please Just Dance Death + Hello Cole Porter (cassette)
IEATHEARTATTACKS - PLEASE JUST DANCE DEATH + HELLO COLE PORTER (CASSETTE)
IEATHEARTATTACKS - 'Please Just Dance Death + Hello Cole Porter' cassetteLP+EP (ZBR143)
For fans of: The Blood Brothers, Graf Orlock and Transistor Transistor.
This is a cassette created out of love for Norway's IEATHEARTATTACKS. Releasing the 'Please Just Dance Death' on tape for the first time alongside the first ever physical release of the 'Hello Cole Porter' EP, remastered by Liam Kriz. Cassettes are /100, with 20 copies coming with silver sparkle covers. Cassettes designed by David Norman. Layout by Dave Cullen.
Out of 100 on purple tinted cassettes w/80 regular covers and /20 sparkle covers, with 2-sided j-cards. 12 songs. Download code included.
Listen here:
https://zegemabeachrecords.bandcamp.com/album/please-just-dance-dance-hello-cole-porter