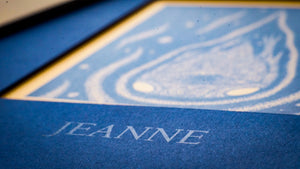 JEANNE - Discography (2x12")
For fans of: Daitro and Malisa Bahat.
Dark, heavy, versatile screamo from France. On double black 12″ vinyl, with 3 different covers (blue, black or beige), and 2 recto/verso inserts. Covers are cut out so that you can change the artwork using the inserts, depending on your mood. To complete your discography pick up the 'Cinq' 5-way split 12" in order to acquire songs 13 and 14!!!
2x12" on black vinyls with interchangeable inserts. 16 songs.
Listen here:
https://voiceoftheunheard.bandcamp.com/album/votu072-discography