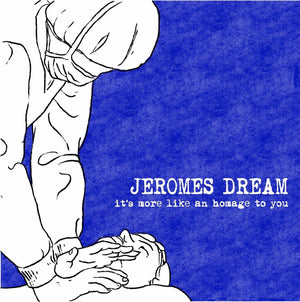 It's More Like an Homage to You - Jeromes Dream tribute compilation (cassette)
IT'S MORE LIKE AN HOMAGE TO YOU - JEROMES DREAM TRIBUTE COMP (CASSETTE)
(ZBR080) - IT'S MORE LIKE AN HOMAGE TO YOU - Jeromes Dream tribute compilation cassette
released May 16th, 2017
29 band/song compilation paying homage to the greatest screechy hardcore band of all time, Jeromes Dream. Comes in a plastic sleeve with j-card. All digital sales go towards the Flint Rising charity. Co-released with Coniine Records (USA).
Side A: - Tracklisting
1) KOMAROV - "My Most Recent Right Left Brain Argument"
2) COMMUOVERE - "What Other Adjective Would You Have Me Use For The Word Good?"
3) MASSA NERA - "The Monologue Of The Century"
4) THISISMENOTTHINKINGOFYOU - "A Second Grade Art Project"
5) UNDER GLASS - "Unreleased #1"
6) Мятеж - "Exit 29 Collapsed As I Drove By"
7) WOLF TEETH - "His Life Is My Denim Paradise All Day, Every Day"
8) APT SUT EIC OCO - "The Last Time We Talked"
9) SLEEPER WAVE - "A Present For Those Who Are Present"
10) COME IN, ACTION TWO. CAN YOU COMPLETE THE MISSION? - "And Just Like That The Year Is Gone"
11) MONOCHROME NAUSEA - "The Teacher Says To His Pupil"
12) YEARS PASS LIKE SECONDS - "Untitled #2"
13) SENZA - "How Staggering Is This Realization"
14) мища - "It's More Like A Message To You"
15) AN ANT AND AN ATOM "What I Learned At This Years Regional Optometry Convention"
Side B: - Tracklisting
16) ALGAE BLOOM - "Just Down The Hall From Room 526"
17) EAGLEHASLANDED - "No Matter What You're Always There"
18) PIG LATIN - "It's Right Where You Said It Would Be"
19) SENKETSU - "Rock Song"
20) APOSTLES OF ERIS - "Double Who? Double You!"
21) FARSEEK - "I Won't Stop Wondering Until You Stop Breathing"
22) OUR WITS MAKE US MEN - "Remember The Sea Of Tranquility"
23) LACKLUSTER - "Do We Write To Write Right"
24) MASALLE - "Life Is What You Make Of It"
25) LESSENER "A Well Documented Case Of Severe Autism"
26) GLITCHGIRL - "Thirty Dollar Bill"
27) COMA REGALIA - "True Thinkers Will Stop Time To Think"
28) BLACK KNIGHT SATELLITE - "Everyday At 3:06"
29) MONOGAMY - "The Big Fuck You"
White cassette with blue side A padprint. 29 songs/bands.