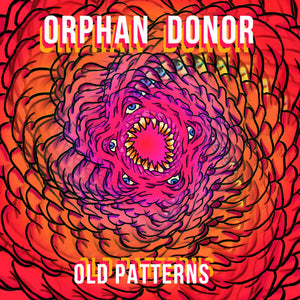 Orphan Donor - Old Patterns (cassette)
ORPHAN DONOR - OLD PATTERNS (CASSETTELP)
ORPHAN DONOR - Old Patterns (cassetteLP) (ZBR189)
For fans of: Examination Of The…, Celeste, Malevich and Meth.
The solo project of Secret Cutter and ex-Oktober Skyline drummer Jared Stimpfl's ORPHAN DONOR debut tape LP 'Old Patterns' is like a lazerbeam through the skull. Citing incantations of late 90 and early 2000s screamo, emo-violence and metalcore, the full length catapults the listener through some seriously incredible, unpredictable and downright trippy extreme music.
75 tapes on clear w/metallic red liner (45) and on swirl (30) w/jcard and download code.
Listen here:
https://orphandonor.bandcamp.com/album/old-patterns