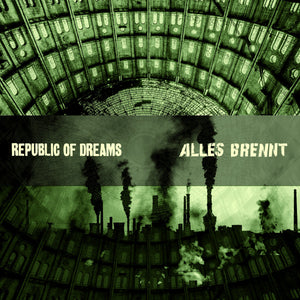 Republic of Dreams / Alles Brennt split (cassette)
REPUBLIC OF DREAMS + ALLES BRENNT - SPLIT
(ZBR198) - REPUBLIC OF DREAMS + ALLES BRENNT - Split (cassette) 
For fans of: Jeromes Dream, Louise Cyphre, Resurrectionists and Closet Witch.
Holy shit REPUBLIC OF DREAMS is finally back with a new EP worth of scorchers along with newcomers ALLES BRENNT to round out a truly incredible split. Cassettes by Zegema Beach released through ourselves and Larry Records.
100 cassettes, 60 on ZBR copper swirl, 25 on Larry's rainbow, 10 clear with green liners and 5 test dips, all w/jcard, lyrical insert and download code.
Listen here:
https://zegemabeachrecords.bandcamp.com/album/republic-of-dreams-alles-brennt-split