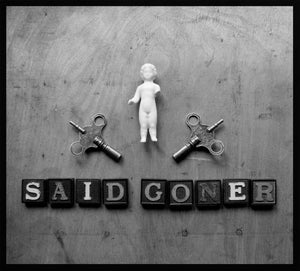 SAID GONER - Said Goner (12")
For fans of: Mansions, Rocky Votolato, Waxwing, Dashboard Confessional, Johnny Cash, Songs Ohia and Kind Of Like Spitting.
This stunning debut solo record from Adam of Carrion Spring and Logs fame is absolutely incredible. Pre-order gets 2 unreleased tracks included alongside the album which will be sent to your email address as a thank you for ordering!
Transparent 12" vinyl w/black smoke out of 550. 11 songs including a Boy Sets Fire cover. Recorded/Mastered by Will Killingsworth.
Labels included:
- Zegema Beach Records (Canada)
- Ancient Injury Records (USA)
- Sieve and Sand Records (France)
Listen here:
https://zegemabeachrecords.bandcamp.com/album/said-goner
And here's a review of the entire album:
http://openmindsaturatedbrain.blogspot.ca/2014/01/said-goner.html