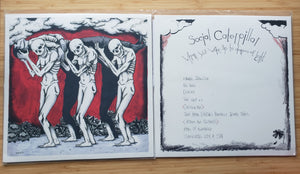 SOCIAL CATERPILLAR - When You Woke Up To Dances Of Light (12")
For fans of: Manchester Orchestra and Elliot.
Honest, stunning, and gorgeous orchestral chamber folk-rock from members of elite screamo bands such as Scowler and Alta (to just name a couple). This is the Wisconsin-based band's sophomore full length and it takes the basics from their previous record and expand exponentially, adding more orchestral sounds, powerful lyrical content and some seriously infectious singing. Whether it's the beautiful sing-along "Anti-Prayer", the soul-oriented "Eraser", or ambient/noise interludes, this album has something for pretty much everyone.
Listen here:
https://softseedmusic.bandcamp.com/album/when-you-woke-up-to-dances-of-light