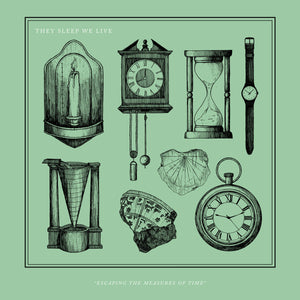 They Sleep We Live - Escaping the Measures of Time (12")
THEY SLEEP WE LIVE - ESCAPING THE MEASURES OF TIME (12")
ZBR063 Release date: December 15th 2016
For fans of: Bright Calm Blue, Gospel and Daitro

Unreal German screamo heavily influenced by mid-late 90s emo/hardcore. These four songs are so thick and lush you'll almost feel claustrophobic with all that amazing music. Utilizing the pretty and ugly, the band weaves epic songs that often have two vocalists screaming back and forth. Amazing debut full length. Pre-orders come with a free 7". This is a corelease between Zegema Beach Records, Koepfen Records, Dingleberry Records, Pike Records, Same Grey Records & Framecode Records.
12" vinyl on clear coke bottle /300 with a screenprinted b-side and an insert. 4 songs. Download code included.
Listen here:
https://zegemabeachrecords.bandcamp.com/album/escaping-the-measures-of-time