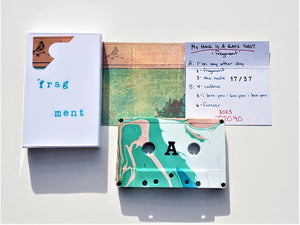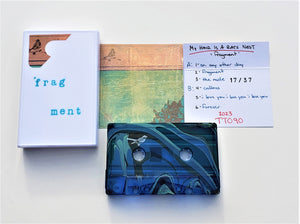 MY HAIR IS A RAT'S NEST - fragment (cassette)
MY HAIR IS A RAT'S NEST 'fragment' cassette LP (TT090)
For fans of: To Be Gentle, Vi Som Alskade Varandra Sa Mycket and Life.
After a staggering amount of EPs, splits, and even a 23-minute song, New Mexico's solo project MY HAIR IS A RAT'S NEST presents a fine-tuned and expertly crafted full-length over six epic, odyssey-esque post-hardcore/screamo tracks. Combining the strained desperation of Vi Som Alskade with the dark, emotional weight of Life and you've got a recipe for awsomeness.
Tapes /37, 21 on fragment concoction swirl, 11 on blue bird swirl, and 5 test dips, all in unique opaque white cases w/sparkle+flowered insert #'d /37. 6 songs.
Listen here:
https://tombtreetapes.bandcamp.com/album/fragment