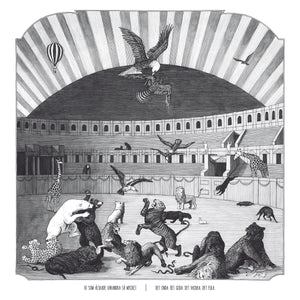 VI SOM ÄLSKADE VARANDRA SÅ MYCKET - DET ONDA. DET GODA. DET VACKRA. DET FULA (12"/cassette)
VI SOM ÄLSKADE VARANDRA SÅ MYCKET - DET ONDA. DET GODA. DET VACKRA. DET FULA. (TAPE/12")
VI SOM ÄLSKADE VARANDRA SÅ MYCKET - Det onda. Det goda. Det vackra. Det fula. 12"LP (ZBR176)
For fans of: Jazzbrunch, Respire and Nionde Plagan.
Released November 22nd, 2019. First press of 300 black 12"s and 200 clear blue 12"s, 50 cassettes.
Featuring members of The Khayembii Communique, Jazzbrunch, Song Of Zarathustra, Cardinal Sin, Ruh, Interlace, Neighbors, Speemarket Avenue, Young Team, and The Comedy (phew that's a lot), VI SOM ÄLSKADE VARANDRA SÅ MYCKET's sophomore record '' took five years to see the light of day but we are finally here. Outrageously epic, haunting, beautiful and terrifying, this screamo meets post-everything LP is available in both 12" vinyl (/500) and cassette (/50) formats. Released in Europe by our excellent neighbors Moment Of Collapse Records.
12" vinyl/500 (black/300 & clear blue/200). Cassettes /50 (20 ZBR sparkle swirls, 10 VSAVSM copper swirls & 10 on white). 8 tracks. Download code included.
Listen here:
https://zegemabeachrecords.bandcamp.com/album/det-onda-det-goda-det-vackra-det-fula