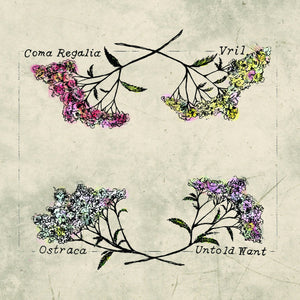 Yarrow 4way (OSTRACA / COMA REGALIA / VRIL / UNTOLD WANT) 10"
YARROW - 4-WAY SPLIT (OSTRACA, COMA REGALIA, VRIL AND UNTOLD WANT) (10")
(ZBR102) - Ostraca, Vril(nuvolascura), Coma Regalia, Untold Want 4way
Release date: December 2017

These four bands of friends have been playing shows alongside one another from one coast of the US to the other. On this four way 10" split they bring you variations on the theme of empathy in the modern world. UNTOLD WANT (formerly Iwakura) drop four poisonous tracks of screamy hardcore, OSTRACA offer up two beautifully constructed screamo opus', VRIL commit three blistering and volatile hardcore songs, while COMA REGALIA bring their A game with three more chaotic, screamo gems.

Brought to you by:
I Corrupt (GER)
Zegema Beach (CAN)
Middle Man (USA)
10" vinyl on ?/500 with insert. 2 tracks by OSTRACA, 3 by COMA and VRIL and 4 by UNTOLD WANT.
Listen here:
https://zegemabeachrecords.bandcamp.com/album/yarrow